Though a lot of campground etiquette is common sense, as we travel around to different campgrounds, I am surprised how many times these common courtesies are overlooked. The important thing is to avoid becoming labeled as a nuisance.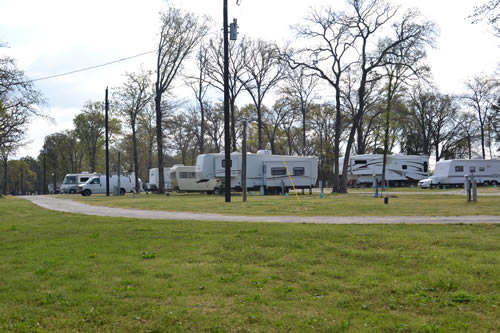 Clean Up After Y0ur Pet
Of all the annoyances, rvers will likely tell you the most annoying thing is for an RVer to take a relaxing walk only to step in pet poo. I am continually amazed by the many times we have seen someone walking their pet indiscriminately. Too often, they not only will they not pick up after their pets, they will let them do their business on someone's campsite. This is one of the rudest things you can do with your pet. Take the time to walk your pet in the dog walk area or a designated location within the campground that's away from other campsites. Be sure to have a plastic bag with you AND USE IT! You can pick up a package of "Doggie Poop Bags" at Petco or Walmart for about $3.00. The bags are small and easy to carry with you.
Cutting Through Campsites
It appears that many RV renters believe that just because you don't OWN the property where you parked your RV, it is OK to walk across your campsite to get to their destination. In reality, when you rent a space in an RV park, you are the lawful resident of the site and with that comes a certain level of privacy. Even though the RVer is renting a small plot of land short term, it is  still their "Home" while they are there. We have had people walk through our RV lot and stop to take a look at our belongings….. pretty annoying.
Quiet Time 
If you frequent RV parks, you already know that space in most RV parks is at a premium. As a consequence, it can be fairly easy to offend surround campers by being too noisy. Most campgrounds have hours designated as "quiet hours" and you should observe these, regardless of how you feel!
Aside from barking dogs, the biggest nuisance in most RV parks appears to be loud music. Unfortunately, much of the music people listen to is not only loud but offensive due to the type of music, lyrics or annoying timbre.
You should, at all times, respect fellow campers by observing Quiet Time. And when you play your music, make sure it is not loud. If you question the volume of music in your RV, go outside and listen to determine if it is too loud or ask a neighbor.
Barking Dogs
Dogs frequently suffer from separation anxiety and, as a consequence, will bark continuously. Though all dogs bark at times, consistent barking gets extremely annoying for everyone around you. One way some have found to work is to play a radio or TV to help drown out other noises around your camper when you're not there.  If this doesn't work, you may want to employ the services of a dog trainer familiar with this problem.
Leave the Campsite the Way You Found It
When you are ready to vacate your campsite, be sure to restore your site to the same condition it was before you got there. Sure, you won't have to remove the ashes from your campfire but you should gather up all trash and debris, bag it and put it in an appropriate container. Pile up any unused wood and check around the campsite to make sure you are not leaving anything behind.
In conclusion, you should enjoy your visit to the campground BUT you should remain aware of others and be considerate. You will enjoy your visit more using these campground tips.