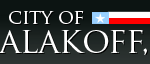 Malakoff is a city in Henderson County, Texas, United States. The population was 2,257 at the 2000 census. The community is named after a Russian fort of Malakoff (Malakhov kurgan), which played a pivotal role during the siege of Sevastopol during the Crimean war.
The City of Malakoff is served by the Malakoff Independent School District. The mascot is the Tiger.
The private Saint Paul Industrial Training School, orphanage and school, is located near Malakoff. It was begun in the 1920s by James William and Alice Olenza Wingfield Smothers. It continues to serve African-American youth, many having been previously homeless. It receives no federal funds.
Malakoff is approximately 19.1 miles from Lonestar RV Parks via TX-31 and TX-274N